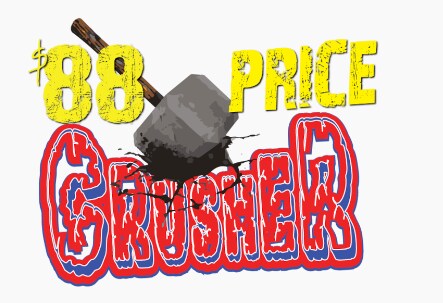 USED CAR "PRICE CRUSHER" SALES EVENT
Used Cars for as Low as $88*
*Only three at this price
Hundreds of high-quality cars will be sacrificed at special prices!
PRICES WILL BE CRUSHED LIKE NEVER BEFORE!
Local dealer conducting a huge "Price Crusher Sale"
vehicles will be sold starting at $88!*
Attention Customers, (No Wholesalers or Dealers please)
All vehicles will be displayed in a secured area at Midwest Superstore, 1100 E 30th Ave. Hutchinson, KS 67502. Public access will begin on Saturday at 9:00 AM, and the event will continue through close-of-business or until we run out of cars.
All vehicles will be unlocked and opened so you may view and inspect the vehicles for one hour. The normal selling price of each vehicle will be Crushed and clearly marked on the windshield.
The sale will begin promptly at 10:00 AM, this sale is first-come-first-served. Whoever is sitting behind the wheel of a vehicle while the retail price is "Crushed" will have the first right to purchase the car at the slashed price. Prices will be slashed one time to their rock-bottom-price.
$30,000 TO $45,000 CARS WILL BE SOLD
FOR AS LOW AS $22,000 TO $35,000. $15,000
TO $28,000 CARS WILL BE SOLD FOR AS
LOW AS $8,000 TO $22,000. All these vehicles
are in premium condition, most with original factory
warranties still in effect.
We will also be selling used vehicles for only $88!*
You win and the dealer wins, the dealer wants to move their current stock of inventory and you get the best price without haggling or wasting time.
This Event is One Day Only
First Come First Served!
Saturday, June 11th, 9 am - 4 pm
This "Price Crusher Sale Event" is a used car sales event being offered by Midwest Superstore on its current used car inventory. This event is to offer the public great deals on used cars before being forced to liquidate their inventory to local wholesalers and auctions.
$88* is not a down payment, it's the actual price we're selling a car for!
Prior bank assets | Overstocked | Tons of used cars to choose from
Cheap used cars | Affordable | Financing Available
Visit our website to preview our inventory: https://www.midwestsuperstore.com/used-inventory/index.htm
*One $88 vehicle will be sold each day to a guest sitting behind the wheel of a vehicle while the retail price is "Crushed". Price does not include government fees, TT&L, finance charges, dealer documentation fees, preparation charges, and any emission testing charges.